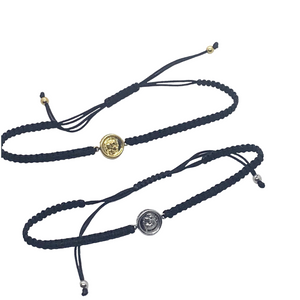 Made In Mykonos, Exclusively for B. Beautiful.
Greek Coin, Black Rope Bracelet.
In  Greek  Mythology  her  name  was  known  for  many  meanings.    We  identify  this  Goddess  with  moral  intelligence (en - ethei - noesin)  and  therefore  she  was  given  the  name  Etheonoe;  in  which,  either  she  or  her  successors  had altered  calling her  "Athena".   In  this  collection  we  recreate  an  illusion,  "Athena  the  Goddess  of Wisdom  and War".   The  Athenian  Tetradrachma  and  a protective  spear  are  brought to  life  symbolizing  wisdom,  courage  and knowledge.