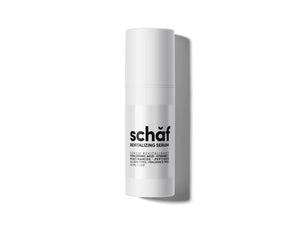 Just wait until people see the look on your face.

The Schaf Revitalizing Serum is powered by an ideal concentration of 15% Vitamin C for an all-in-one, natural anti-aging serum that brightens, hydrates, plumps and diminishes the look of fine lines and dark spots. 

Formulated with an anti-aging blend of vitamins, peptides and humectants including Vitamin C, Niacinamide and Hyaluronic Acid to brighten, hydrate, even out skin tone, and promote healthy skin. Helps to improve skin's natural production of collagen to plump skin and diminish the appearance of surface lines and wrinkles.  
While retinoid (retinol) can smooth wrinkles and encourage rapid cell turnover to make skin look younger, it can also cause redness, stinging, peeling, and itching. Retinol is also sensitive to the sun, which means it's not great to apply during daylight hours. Our serum delivers similar results, but without these aggravating side effects.
Especially effective for acne prone skin as our serum does not contain any heavy emollients.
How to use:
Use under your moisturizer both morning and/or night. Can also be used as a very light moisturizer, especially during
warm weather when a traditional moisturizer may be too heavy.